Flight Watch and Crew Coordination in Cloud Solution
OctopusNet CM™ is an E.R.P. software that allows an integrated working solution. Departments involved exchange common information, that flows trough the system and make possible a real and strong cooperation between areas involved. It is oriented for implementation in airlines, charters, cargo, business aviation and flying schools.
Communication traced and in real time
From now on we are capable to strongly increase communications between internal departments getting collaboration between different areas within enterprise. Octopus CM™ is capable to manage all the information inside a single database, giving a clear and deeper advantage of being updated in real time.
Web based software with differentiated rights and high security access
OctopusNet CM™ access to information is carried out through an easy to manage Web interface, real time connection, remote access from different bases where the users will log in the software with different rights, allowing a better protection of company internal data. High data security.
Strong and useful utilities with better internal interactivity
OctopusNet CM™ has a big series of strong and useful utilities, making different users capable to properly interact between them at a high quality level and, where requested, communications can also be traced and stored.
Complete joint link of Commercial - O.C.C. - Rostering Crewing - Post Flight - Maintenance modules
All operational areas will have the possibility to jointly manage updated aircrafts availability inside OctopusNet CM™, making easier day-by-day operations to O.C.C., Rostering (Rol), Crewing , and Commercial departments. As currently organized, most of customer areas of Company's activities interviewed so far could receive immediate strong benefits from Octopus CM™ implementation increasing productivity and allowing a better transversal company organization.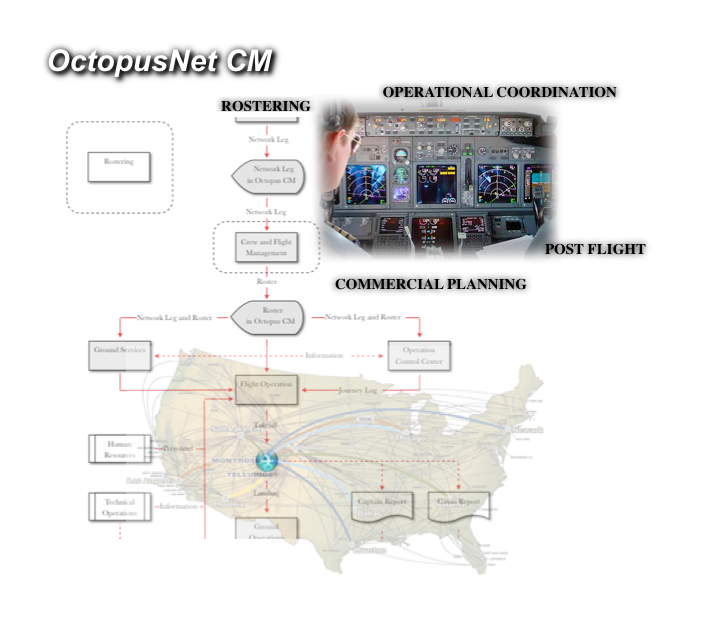 FLIGHT MANAGEMENT MODULE
Includes the main sub-modules of:
- Flight series (all the complete period)
- Round-trips management
- Allotments management (customized operations).
ROSTERING (Crew Management) MODULE
Includes the main sub-modules of:
- CREW MANAGEMENT (ROSTERING)
- Crew Management (Rostering) database
- Crew requests
- Check/assign
- Check flight filling
- Replacing assignments
- Copying assignments
- Moving assignments
- Swapping assignments (between two crew member)
- Crew schedule
- Check Controls
- Operative limits
TRAINING DEPARTMENT
Includes the main sub-modules of:
- Crew checks setup
- Expire of checks control
- Assignment of simulator sessions
- Assignment of flight instructed/instructor
- Annex activities
- Assignment of ground instructions
OPERATIVE CONTROL CENTRE MODULE
Includes the main sub-modules of:
- Moving legs from an airplane to another
- Delay a group of legs
- Effective data inputs (movements, delays codes, pax....)
- Flight
- Documents Management
- IATA Flight Messages
POST FLIGHT ACTIVITIES MODULE
Includes the main sub-modules of:
- Flight Log
- Cross Data Control
- Flight Data Validation
- Final Statement Data.